Main content starts here, tab to start navigating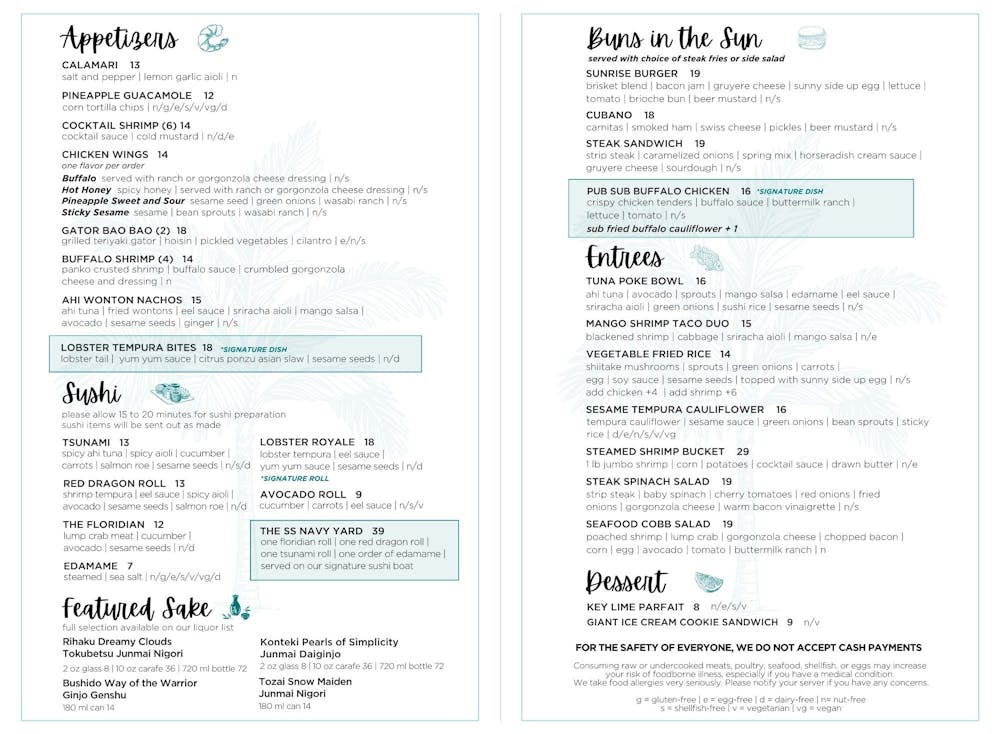 Appetizers
Calamari

salt & pepper | lemon garlic aioli | n

$13

Pineapple Guacamole

corn tortilla chips | n/g/e/s/v/vg/d

$12

Cocktail Shrimp (6)

cocktail sauce | cold mustard | n/d/e

$14

Chicken Wings

one flavor per order

$14

Buffalo served with ranch or gorgonzola cheese dressing | n/s

Hot Honey spicy honey | served with ranch or gorgonzola cheese dressing | n/s

Pineapple Sweet and Sour sesame seed | green onions | wasabi ranch | n/s

Sticky Sesame sesame | bean sprouts | wasabi ranch | n/s

Gator Bao Bao (2)

grilled teriyaki gator | hoisin | pickled vegetables | cilantro | e/n/s

$18

Buffalo Shrimp (4)

panko crusted shrimp | buffalo sauce | crumbled gorgonzola cheese & dressing | n

$14

Ahi Wonton Nachos

ahi tuna | fried wontons | eel sauce | sriracha aioli | mango salsa | avocado | sesame seeds | ginger | n/s

$15

Lobster Tempura Bites

lobster tail | yum yum sauce | citrus ponzu asian slaw | sesame seeds | n/d

$18
Sushi
please allow 15 to 20 minutes for sushi preparation sushi items will be sent out as made
Tsunami

spicy ahi tuna | spicy aioli | cucumber | carrots | salmon roe | sesame seeds | n/s/d

$13

Red Dragon Roll

shrimp tempura | eel sauce | spicy aioli | avocado | sesame seeds | salmon roe | n/d

$13

The Floridian

lump crab meat | cucumber | avocado | sesame seeds | n/d

$12

Edamame

steamed | sea salt | n/g/e/s/v/vg/d

$7

Lobster Royale

lobster tempura | eel sauce | yum yum sauce | sesame seeds | n/d

$18

Avocado Roll

cucumber | carrots | eel sauce | n/s/v

$9

The SS Navy Yard

one floridian roll | one red dragon roll | one tsunami roll | one order of edamame | served on our signature sushi boat

$39
Featured Sake
full selection available on our liquor list
Rihaku Dream Clouds Tokubetsu Junmai Nigori

2 oz $8

10 oz carafe $36

720 ml bottle $72

Bushido Way of the Warrior Ginjo Genshu

180ml can

$14

Konteki Pearls of Simplicity Junmai Daiginjo

2oz glass $8

10oz carafe $36

720 ml bottle $72

Tozai Snow Maiden Junmai Nigori

180ml can

$14
Buns in the Sun
served with choice of steak fries or side salad
Sunrise Burger

brisket blend | bacon jam | gruyere cheese | sunny side up egg | lettuce | tomato | brioche bun | beer mustard | n/s

$19

Cubano

carnitas | smoked ham | swiss cheese | pickles | beer mustard | n/s

$18

Steak Sandwich

strip steak | caramelized onions | spring mix | horseradish cream sauce | gruyere cheese | sourdough | n/s

$19

Pub Sub Buffalo Chicken

crispy chicken tenders | buffalo sauce | buttermilk ranch | lettuce | tomato | n/s

$16

sub fried buffalo cauliflower +1 $0
Entrees
Tuna Poke Bowl

ahi tuna | avocado | sprouts | mango salsa | edamame | eel sauce | sriracha aioli | green onions | sushi rice | sesame seeds | n/s

$16

Mango Shrimp Taco Duo

blackened shrimp | cabbage | sriracha aioli | mango salsa | n/e

$15

Vegetable Fried Rice

shiitake mushrooms | sprouts | green onions | carrots | egg | soy sauce | sesame seeds | topped with sunny side up egg | add chicken +4 | add shrimp +6

Sesame Tempura Cauliflower

tempura cauliflower | sesame sauce | green onions | bean sprouts | sticky rice | d/e/n/s/v/vg

$16

Steamed Shrimp Bucket

1lb jumbo shrimp | corn | potatoes | cocktail sauce | mango salsa | n/e

$29

Steak Spinach Salad

strip steak | baby spinach | cherry tomatoes | red onions | fried onions | gorgonzola cheese | warm bacon vinaigrette | n/s

$19

Seafood Cobb Salad

poached shrimp | lump crab | gorgonzola cheese | chopped bacon | corn | egg | avocado | tomato | buttermilk ranch | n

$19
Dessert
Key Lime Parfait

n/e/s/v

$8

Giant Ice Cream Cookie Sandwich

n/v

$9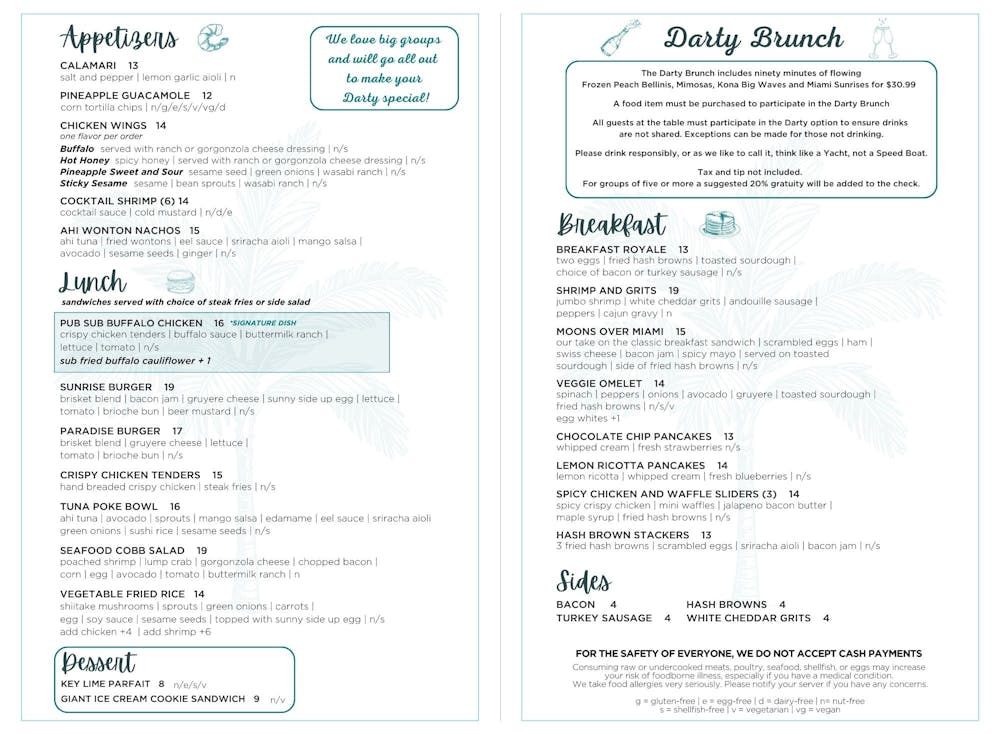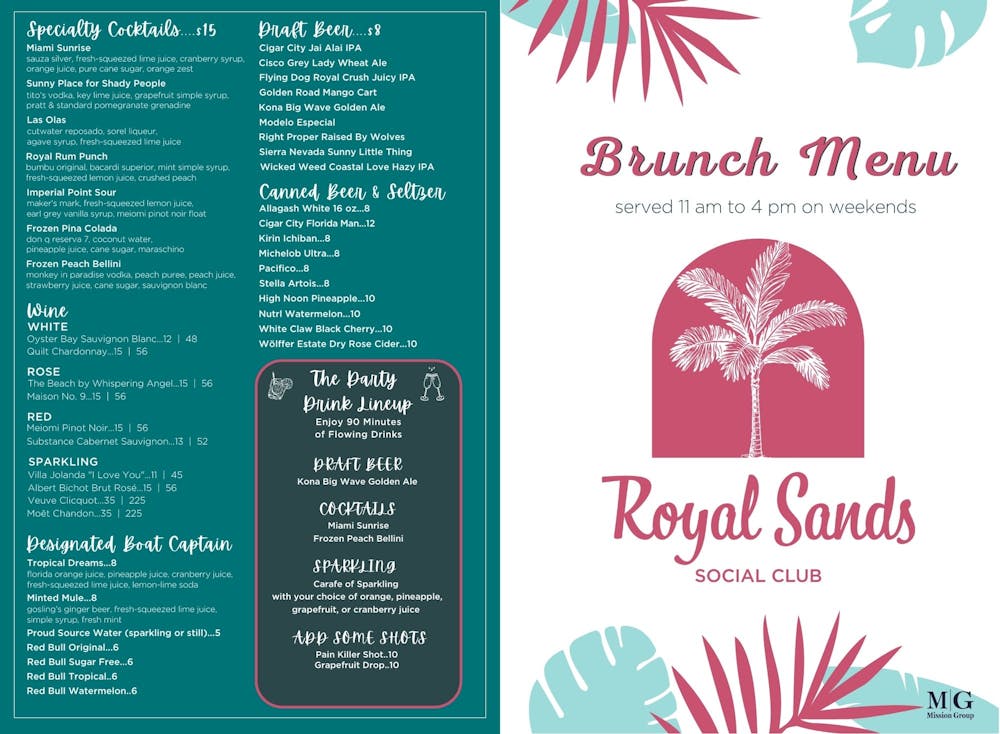 DARTY BRUNCH
The Darty Brunch includes ninety minutes of flowing Frozen Peach Bellinis, Mimosas, Kona Big Waves and Miami Sunrises for $30.99.
A food item must be purchased to participate in the Darty Brunch.
All guests at the table must participate in the Darty option to ensure drinks are not shared. Exceptions can be made for those not drinking.
Please drink responsibly, or as we like to call it, think like a Yacht, not a Speed Boat.
Tax and tip not included.
For groups of five or more a suggested 20% gratuity will be added to the check.
Appetizers
Calamari

salt and pepper | lemon garlic aioli | n

$13

Pineapple Guacamole

corn tortilla chips | n/g/e/s/v/vg/d

$12

Chicken Wings

one flavor per order

$14

Buffalo served with ranch or gorgonzola cheese dressing | n/s

Hot Honey spicy honey | served with ranch or gorgonzola cheese dressing | n/s

Pineapple Sweet and Sour sesame seed | green onions | wasabi ranch | n/s

Sticky Sesame sesame | bean sprouts | wasabi ranch | n/s

Cocktail Shrimp (6)

cocktail sauce | cold mustard | n/d/e

$14

Ahi Wonton Nachos

ahi tuna | fried wontons | eel sauce | sriracha aioli | mango salsa | avocado | sesame seeds | ginger | n/s

$15
Lunch
sandwiches served with choice of steak fries or side salad
Pub Sub Buffalo Chicken

crispy chicken tenders | buffalo sauce | buttermilk ranch | lettuce | tomato | n/s

$16

sub fried buffalo cauliflower +1

Sunrise Burger

brisket blend | bacon jam | gruyere cheese | sunny side up egg | lettuce | tomato | brioche bun | beer mustard | n/s

$19

Paradise Burger

brisket blend | gruyere cheese | lettuce | tomato | brioche bun | n/s

$17

Crispy Chicken Tenders

hand breaded crispy chicken | steak fries | n/s

$15

Tuna Poke Bowl

ahi tuna | avocado | sprouts | mango salsa | edamame | eel sauce | sriracha aioli | green onions | sushi rice | sesame seeds | n/s

$16

Seafood Cobb Salad

poached shrimp | lump crab | gorgonzola cheese | chopped bacon | corn | egg | avocado | tomato | buttermilk ranch | n

$19

Vegetable Fried Rice

rice | shiitake mushrooms | sprouts | green onions | carrots | egg | soy sauce | sesame seeds | n/s

$13

wok fried chicken $4

sauteed shrimp $6
Breakfast
Breakfast Royale

two eggs | fried hash browns | toasted sourdough | choice of bacon or turkey sausage | n/s

$13

Shrimp and Grits

blackened jumbo shrimp | white cheddar grits | andouille sausage | cajun gravy | n

$19

Moons over Miami

our take on the classic breakfast sandwich | scrambled eggs | ham | swiss cheese | bacon jam | spicy mayo | served on toasted sourdough | side of fried hash browns | n/s

$15

Veggie Omelet

spinach | peppers | onions | avocado | gruyere cheese | toasted sourdough | fried hash browns | n/s/v

$14

egg whites $1

Chocolate Chip Pancakes

whipped cream | fresh strawberries | n/s

$13

Lemon Ricotta Pancakes

lemon ricotta | whipped cream | fresh blueberries | n/s

$14

Spicy Chicken and Waffle Sliders (3)

spicy crispy chicken | mini waffles | jalapeno bacon butter | maple syrup | fried hash browns | n/s

$14

Has Brown Stackers (3)

3 fried hash browns | scrambled eggs | sriracha aioli | bacon jam | n/s

$13
Sides
Bacon

$4

Turkey Sausage

$4

White Cheddar Grits

$4

Hash Browns

$4
Dessert
Key Lime Parfait

n/e/s/v

$8

Giant Ice Cream Cookie Sandwich

n/v

$9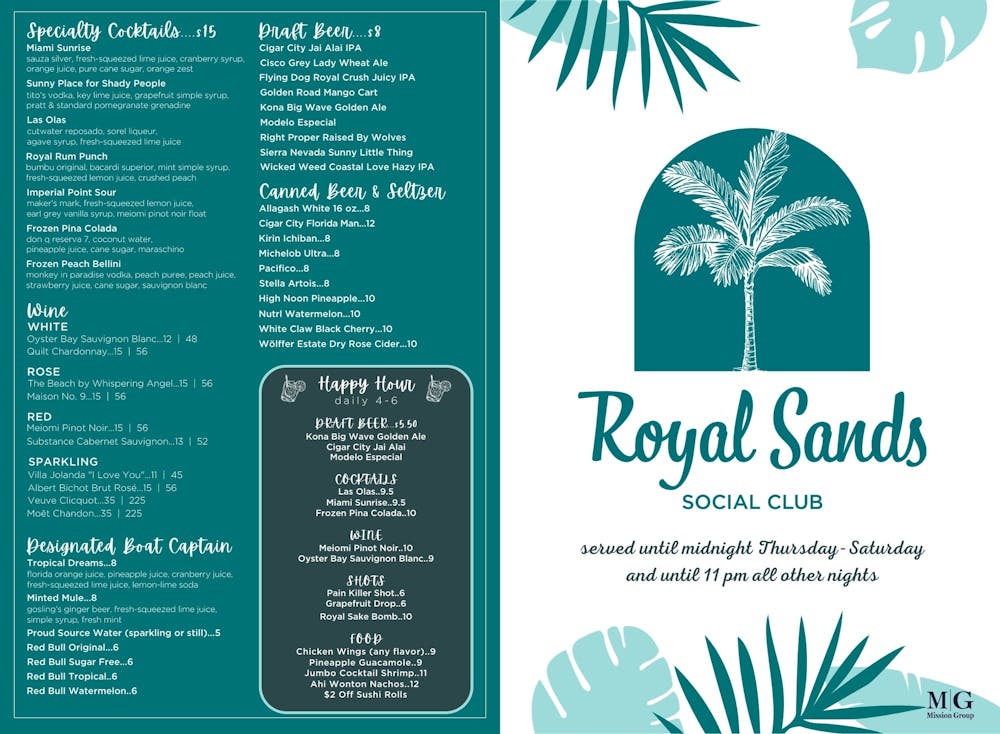 Specialty Cocktails
Miami Sunrise

sauza silver | fresh-squeezed lime juice | cranberry syrup | orange juice | pure cane sugar | orange zest

$15

Sunny Place for Shady People

tito's vodka | key lime juice | grapefruit simple syrup | pratt & standard pomegranate grenadine

$15

Las Olas

cutwater reposado | soreli liqueur | agave syrup | fresh-squeezed lime juice

$15

Royal Rum Punch

bumbu original | bacardi superior | mint simple syrup | fresh-squeezed lemon juice | crushed peach

$15

Imperial Point Sour

maker's mark | fresh-squeezed lemon juice | earl grey vanilla syrup | meiomi pinot noir float

$15

Frozen Pina Colada

don q reserva 7 | coconut water | pineapple juice | cane sugar | maraschino

$15

Frozen Peach Bellini

monkey in paradise vodka | peach puree | peach juice | strawberry juice | cane sugar | sauvignon blanc

$15
White Wine
Oyster Bay Sauvignon Blanc

Glass $12

Bottle $48

Quilt Chardonnay

Glass $15

Bottle $56
Rose
The Beach by Whispering Angel

Glass $15

Bottle $56

Maison No. 9

Glass $15

Bottle $56
Red Wine
Meiomi Pinot Noir

Glass $15

Bottle $56

Substance Cabernet Sauvignon

Glass $13

Bottle $52
Sparkling
Villa Jolanda "I Love You"

Glass $11

Bottle $45

Albert Bichot Brut Rose

Glass $15

Bottle $56

Veuve Cliquot

Glass $35

Bottle $225

Moet Chandon

Glass $35

Bottle $225
Designated Boat Captain
Tropical Dreams

florida orange juice, pineapple juice, cranberry juice, fresh-squeezed lime juice, lemon lime soda

$8

Minted Mule

gosling's ginger beer, fresh-squeezed lime juice, simple syrup, fresh mint

$8

Proud Source Water (sparkling or still)

$5

Red Bull Original

$6

Red Bull Sugar Free

$6

Red Bull Tropical

$6

Red Bull Watermelon

$6
Draft Beer
Cigar City Jai Alai IPA

$8

Cisco Grey Lady Wheat Ale

$8

Flying Dog Royal Crush Juicy IPA

$8

Golden Road Mango Cart

$8

Kona Big Wave Golden Ale

$8

Modelo Especial

$8

Right Proper Raised By Wolves

$8

Sierra Nevada Sunny Little Thing

$8

Wicked Weed Coastal Loven Hazy IPA

$8
Canned Beer & Seltzer
Allagash White

16oz

$8

Cigar City Florida Man Double IPA

$12

Kirin Ichiban

$8

Michelob Ultra

$8

Pacifico

$8

Stella Artois

$8

High Noon Pineapple

$10

Nutrl Watermelon

$10

White Claw Black Cherry

$10

Woiffer Estate Dry Rose Cider

$10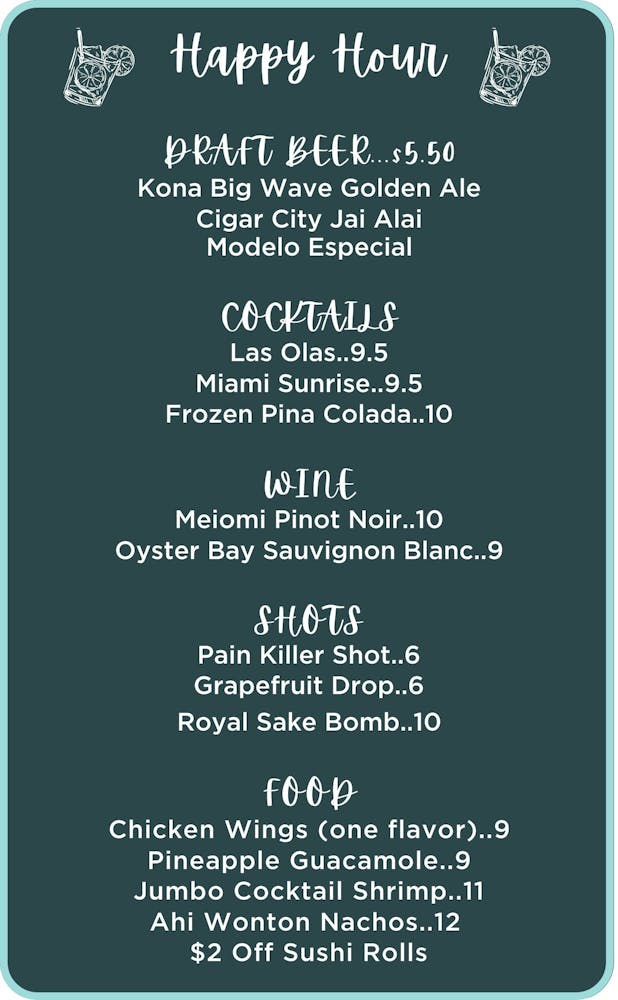 Food
Chicken Wings

one flavor per order

$9

Pineapple Guacamole

$9

Jumbo Shrimp Cocktail (6)

$11

Ahi Wonton Nachos

$12

$2 Off Sushi Rolls
Draft Beer...$5.50
Kona Big Wave Golden Ale

Cigar City Jai Alai

Modelo Especial
Shots
Pain Killer Shot

$6

Grapefruit Drop

$6

Royal Sake Bomb

$10
Cocktails
Frozen Pina Colada

$10

Las Olas

$9.50

Miami Sunrise

$9.50
Wine
Meiomi Pinot Noir

$10

Oyster Bay Sauvignon Blanc

$9